Welcome to Walking Extremadura — the web site all about walking in Extremadura

I started this web site in the Summer of 2007. It was just after I came to live in the Sierra de Montánchez and realised there were unexplored walking opportunities available in the area. I wanted to share what I was discovering, firstly with family and friends and later, with the much wider, and international, walking community. Walking Extremadura will show you the beauty of walking in this area - and not just walking. This is also the place for painters, flower lovers, bird watchers, photographers, animal lovers and people who love history. That's before we start on about lovers of good food and relaxed and enjoyable company. You will find all that and more in Extremadura. On walkingextremadura.com you will find:
regularly written up walks and routes with descriptive text, maps and GPS points to locate walks accurately
a few historical notes on the routes and general information on walking in Extremadura
a lot of photography to tempt you here
how to get here and where to stay

links, changing pages and updates

To navigate this site use the horizontal menu bar at the top. All the walks can be found listed under the 'walks' button, then the area in which they are located geographically. It's logical, I hope.
The site has been made simple so that all of us spend less time on the computer and more time walking. I have my boots on, ready, as I write.
Gisela Radant Wood
All photography and text on this site © Gisela Radant Wood
(Click on small photos to get a whole-screen view, then close by clicking the x in the top right corner.)

All maps are by Google
---
Walking News and Updates • 14th March 2017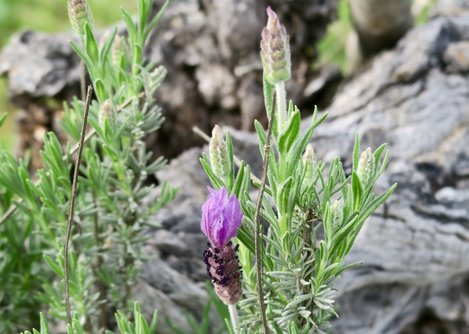 It's a crazy Spring! How often have I written that over the ten years I have been living here? Probably ten times. After two weeks of ground frosts in January that wrecked the bougainvillea in the garden, the weather became wet and lately very warm indeed. Temperatures shot up to the high 20C. Consequently, the birds started nest building, the flowers came out and the bees became busy, especially on the thousands of lavender bushes that cover the countryside. It seemed too good to be true — and it was. The last few days have had a fierce and biting cold wind coming from the north and Nature is in confusion once more. A typical Spring, in other words!

I have been updating the 'where to stay' page to make sure that all the information and links provided are current for the start of a new year of walking. I'm also updating the 'books' page with information of the coming book but I will still post updates to walks in the first book, of course.

Photo taken yesterday on my finca.
---
walkingextremadura.com has had 32,338 visitors making 305,594 hits in the past 12 months (stats from iPage)
We are not on FaceBook or Twitter (I'd rather be walking) but if you want to keep up with the news just put us into 'favourites' and visit every so often.